Omaha Chiropractor Helping Families
for Over 20 Years
Achieve Optimum Health at Frazier Family Chiropractic
Omaha chiropractor, Dr. Cindy Frazier has been caring for pregnant moms, newborns and children for over 20 years.  She delivers exceptional care through specific analysis of the nerve system and spine.  Dr. Cindy is dedicated to serving the Omaha community and their families to living their fullest lives by having the best health possible with chiropractic care.
Dr. Cindy knows that health begins before conception and all moms to be need to be functioning at their best so they can have a healthy baby and comfortable birth. She works with Midwives and OB/GYNs in the community.
---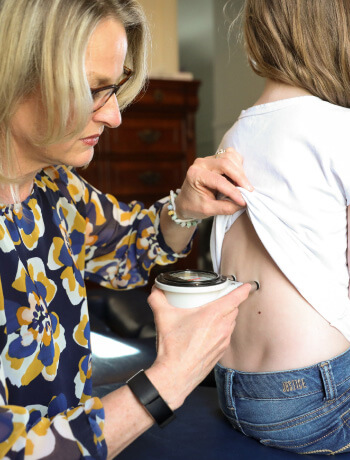 We Were Designed to Be Healthy
Dr. Cindy knows that our bodies were designed to be healthy and that this can be a challenge with every day stressors. This stress can interfere with the nerve system and how it functions and adapts to our environment. The central nerve system is the master control system of the body. This interference decreases our body's ability to be healthy. Chiropractic removes the interference caused by stress and allows the body to adapt and be healthy.
Frazier Family Chiropractic welcomes you and your family to enjoy a warm, inviting and comfortable health experience. Dr. Cindy is dedicated to helping everyone achieve their health goals. She has spent the last 20 years becoming an expert in pediatrics and pregnancy care. She is experienced in working with families having difficulty with colic, ear infections, constipation, ADD/ADHD and allergies.
Get To Know Dr. Cindy
Dr. Cindy believes health is about optimum function. She knows as a pediatric chiropractor and mother of 5 beautiful healthy children just how traumatic the birth process can be even with a natural birth. She checked and adjusted each of her children within hours of being born.
Dr. Cindy graduated National College of Chiropractic in 1997. Her interest in chiropractic grew from a diagnosis of scoliosis at the age of 9 years old, wearing a back brace for several years and eventually having Harrington Rod surgery. " I would not be functioning as well as I am today if I were not getting weekly adjustments." Dr. Cindy has 5 amazing children, all born naturally, and an awesome husband who is a pediatric surgeon that realizes just how powerful the brain-body connection is and must be working properly for optimum health.
Contact us today to get started!