About Frazier Family Chiropractic
Living Your Best Life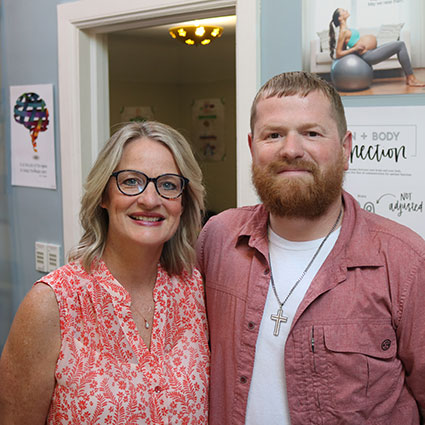 At Frazier Family Chiropractic, our mission is to empower and educate parents on making the best health care decisions for their family, and to help every member of the family live the best life they can through a healthy nervous system.
The goal of chiropractic is to determine the cause of your health problems, so that the underlying nervous system interferences can be corrected. We aren't just focused on symptoms—we help your body function at its optimum level so it can heal and repair itself.
Family-Centered Practice
Dr. Cindy is passionate about providing chiropractic care to pregnant moms, children and infants in order to keep everyone's nervous system healthy so it can function at their best. It just makes sense to make sure the brain and nerve system connection is working optimally all the time. Your brain is your control tower of your body. It connects and controls every organ, gland and tissue in your body. Stressors which cause the interference to our brain and nerve system come from physical, emotional and chemical sources, and maintaining a healthy nervous system allows kids' bodies to heal and repair the effects of these stressors on their own, as they were designed to.
Our family-centered approach extends to our office space, which is located in Dr. Cindy's guesthouse. It's a friendly, warm, homey space with a play area for the kids to enjoy while their parents or siblings are getting adjusted, and a refrigerator stocked with snacks and drinks for our hungry practice members who come straight from school.
For over twenty four years, Dr. Cindy has been caring for families while raising her own. She and her husband, a pediatric surgeon, have five kids and Dr. Cindy enjoys having her practice at her home so she can be close to her kids while also being of service to other parents and their children in her community in Omaha/Dundee area.
Care and Support
It's challenging being a mom when you don't know what's going on with your child's health or behavior, especially if you don't have the support you need. Dr. Cindy offers you that compassionate support, while helping resolve your child's issues.
Common complaints that can benefit from chiropractic care include:
Difficulty nursing or latching
Colic
Constipation
Ear infections
ADD/ADHD
Growing pains
Anxiety/Stress
Neurodevelopmental disorders
Headaches
Pregnancy discomfort
Tantrums/Meltdowns
Learning disorders
Behavior challenges
Low back pain
Get Help Today
We'd love to welcome your family into our family. Contact us today to learn how chiropractic care can help.

About Frazier Family Chiropractic | (402) 650-0090